by Texas Homesteader ~
I think it's a beautiful thing that when I take steps to save money it almost always also has a positive environmental effect. But it was a busy week for us and sometimes when life gets hectic I take shortcuts, which can have a negative effect on my environmental awareness as well as our budget. But I think I did very well staying true to my environmental self as well as to our budget. C'mon & see 5 things we did to save money (and the environment!) this week.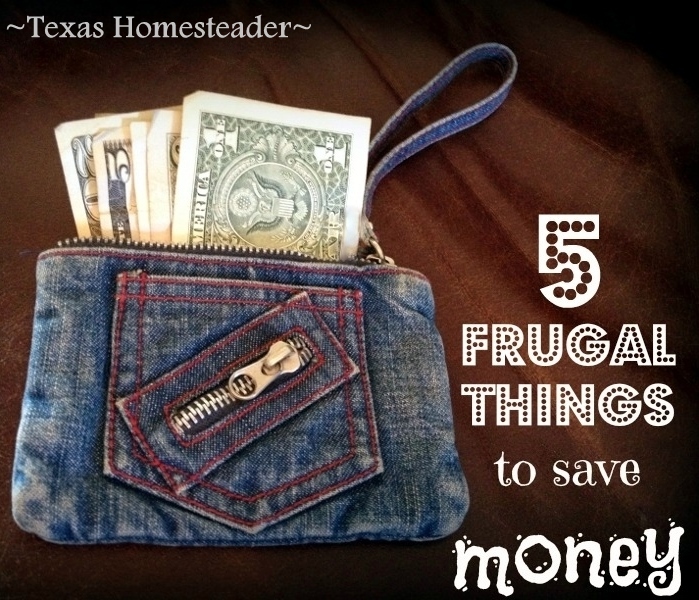 We were invited to a birthday party for a family member. Several of us were gathering at a restaurant out in 'the big city' to celebrate. On the way in we noticed that the restaurant had several specials, including a 1/2 price entree when another entree and two drinks were purchased. Although I typically just order water with lemon when we go out to eat, I ordered a glass of unsweetened tea this time and my meal was half price!
We were invited to another gathering of friends & family at a local-ish winery & bistro. Now I love this brand of wine, but neither RancherMan nor I am fond of their food, OR their prices! Since we had some errands to run in this town (as we always do when we are traveling in a nearby town) we discovered that Taco Bueno had Muchacos on a one-day special for $0.99 each. I *LOVE* their Muchacos anyway so when we drove by we swung in and ordered two for each of us and a cup of iced water to share. Lunch for 2 – only $4! And I hate to use those little plastic cups while at the condiment bar so instead we unwrapped the Muchacos and doctored them directly – no plastic cups used and thrown away. Now fully satiated with food we actually loved we were able to enjoy the gathering without needing to buy an overpriced meal.
We host our family reunion here at the ranch every year, the event was held last weekend. During RanchFest, we provide the main dish and each family brings their favorite side or dessert to share. Although there were lots of guests coming I hated to buy paper plates, especially since Disposable = FRUSTRATION for me. The heavy-duty paper plates are expensive, the cheap lightweight paper plates would never hold up to one of the hefty meals we had in store and styrofoam plates weren't even an option! So instead I used my real plates – most of them are Corelle so they're dang-near unbreakable. We requested that food brought to the event be finger foods so no utensils were even needed (smoked brisket sandwiches, chips & dips, hummus & crackers, raw fruit and/or veggie platters, stuffed jalapenos, sausage/cheese/cracker trays, cookies or sliced cold watermelon for dessert) It worked out beautifully – there was no serving ware to buy and throw in the trash and since our new energy-star dishwasher uses precious little water yet works so well it wasn't even a problem with cleanup: I simply scraped any leftover food bits into my compost bucket, loaded the dishwasher and pushed the button. BOOM!
During this family reunion gathering we also set out two large empty 200-lb capacity cattle-protein buckets with signs that read "aluminum" for any empty aluminum cans and "Glass/Plastic" for glass bottles, plastic water bottles, etc. After the reunion the aluminum cans were crushed and added to RancherMan's metal recycling stash – we'll make a little cash next time we happen to drive by the recycling center in a nearby town. The recyclable items in the other bucket were taken home by a family member to be added with their own weekly recycling.
A while back while raising one of the large windows in our living room I heard "PING" and a small part came flying out. The window was a little tighter to open was somewhat cockeyed when raised but I was just careful to raise/lower it slowly. But this week RancherMan researched the window repair procedure, pulled the window, took it to his shop, repaired it, and reinstalled it. In past days I'd have just called someone to come repair the window, but it's that fix-it-yourself mindset that keeps our living requirements low enough to be able to live & work here at a place that speaks to our hearts. Thank you RancherMan for all you do!
So there ya go, 5 things we did this week to save money. Even with not one but TWO dining-out obligations we worked it out where we saved some cash and still enjoyed the company of family & friends during special occasions. Heck, just because you're trying to save money doesn't mean you can't (within your budget of course) enjoy gatherings that nurture those important relationships!
What did you do this week to save a little cold, hard cash? C'mon & crow about it a little, we can all learn from each other!
~TxH~


C'mon by & sit a spell! Come hang out at our Facebook Page . It's like sitting in a front porch rocker with a glass of cold iced tea. There are lots of good folks sharing! And you can also follow along on Pinterest, Twitter or Instagram
If you'd like to receive an email when a new blog post goes live,
Save