by Texas Homesteader ~
In order to both live as well as work here on our beloved homestead, RancherMan & I have to be very careful with our money. Oh sure we could just give up on our dream & go back to the corporate world. Then we'd have as much money rolling in as we used to! But that's not our life and it's not our dream. And the beautiful thing is that it's not even a sacrifice to us to be mindful of where our money goes if it means we get to live a life that's true to our hearts!
I know many of you are also mindful of your finances and my hope is this post about 5 frugal things this week gives you some encouragement. Let's dive in!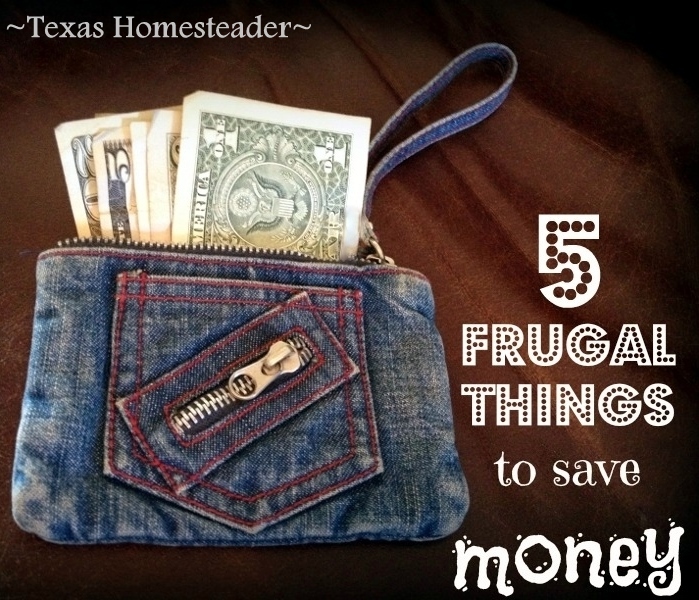 RancherMan & I are making our own Christmas gifts again this year, but there was a component to that gift that needed to be purchased to be able to assemble the gifts. (sorry I know that's vague but my family reads the blog & I'm not at liberty to be more specific) So RancherMan researched our options and ordered the part we needed very inexpensively from an etsy shop. I like doing business with individuals instead of corporations whenever possible!
We're landscaping our new back porch and it includes two huge planters which I'll be planting lavender & herbs. To fill them I've been saving my finished compost in huge 30-gallon containers so no soil will need to be purchased. No trash is produced and it's healthier for my plants too!
While running errands in a nearby city, we combined all errands together so we had less time driving. And we stopped to refill the car with gasoline since we found it so much less expensive there than where we live.
I've opened up an online store and filled it with handmade items from our homestead. One of those items is beeswax food wraps, but I needed something to hold them when I mailed them to our customers. We researched the least expensive option to purchase cardboard mailers to hold them. RancherMan's the king of comparison research!
NOTE: For those of you asking about my Online Store Here, feel free to check it out!

5. RancherMan and I had been running errands lunch time came & went. We resisted the urge for drive-through junk food while we were out. Once we came home I tossed some homemade chicken broth in a pan along with dehydrated carrots and onions. I broke spaghetti into small pieces and cooked it 9 minutes while I diced up cooked chicken from the freezer. A quick stir and voila! I love chicken noodle soup but the canned stuff is so salty and has only a few eensy pieces of chicken. Nothing beats homemade and it costs only pennies!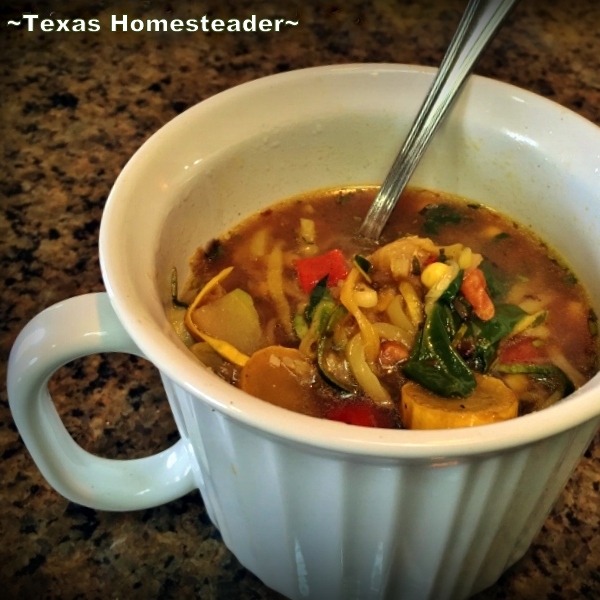 What about you? Have you done something this week to save money that you're so proud of that you need to crow about it? Well go ahead – we all love the encouragement! Share your money-saving ideas below.
Like This Series of 5 Frugal Things? See the other entries HERE.
~TxH~


C'mon by & sit a spell! Come hang out at our Facebook Page . It's like sitting in a front porch rocker with a glass of cold iced tea. There are lots of good folks sharing! And you can also follow along on Pinterest, Instagram & Twitter
If you'd like to receive an email when a new blog post goes live,
subscribe to our Blog!