by Texas Homesteader ~
Whelp, it's August y'all.  In TEXAS!  August typically means hot and dry weather.  Usually this is the time when I quit fighting the garden altogether and let it go dormant.  I mean, when it's this hot nothing wants to set fruit anyway.  And during our typical summer when the rain taps turn completely off, it's impossible to keep the garden watered.  Oh you can mulch and water, and of course it helps.  But the water you drop on the garden will probably be wicked away quickly without really soaking into the ground next to the plant's roots.
But this year I experimented with biodegradable weed block. My hope was that it would not only keep the weeds down, but also keep the roots moist. I've been able to see the benefits.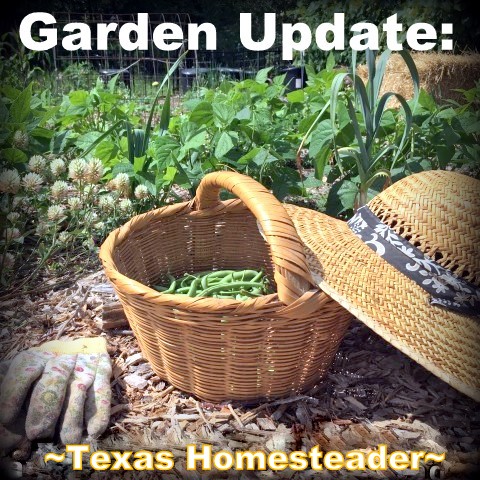 A week away from the Homestead for RancherMan & me to celebrate our 20th anniversary resulted in ZERO garden die-off. Even with a gripping heatwave that hit before/during/after our trip. I guess this biodegradable weed block that I'm experimenting with really does work!
Green Beans are Done
The rows of green beans have petered out. But we love green beans! So about mid-month I'll sow more heirloom green bean seeds so I can shoot for a fall harvest as well.
Tomatoes Overcoming Adversity
My heirloom seedlings didn't make it due to the very-wet spring we had. So I had to buy my tomato plants this year. A local gardener sold me single plants of various varieties and I planted them, but everything was so wet this spring that it was a struggle to get those plants large enough to produce. When they finally did, the hot/dry summer weather pattern hit.
During my typical morning garden inspection I spy tomato branches completely stripped of leaves. Ugh, the hornworm – natures most effective 'Where's Waldo' pest. Those hornworms are HUGE but still oh-so-hard to see.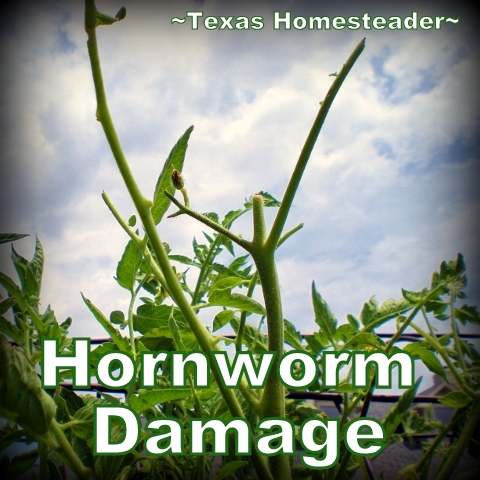 I never found the hornworm but thankfully the damage stopped. So I'm guessing Waldo's already gone. (yea!)
I've been able to harvest a few delicious tomatoes this season, but now I'm just trying to limp the plants along until fall when I'm hoping to get a short flush of them.
Peppers Doing Surprisingly Well
I planted only 2 kinds of peppers this year – red bells and poblanos. Both have done remarkably well. I've harvested several red bells. To preserve them I've frozen or dehydrated the excess.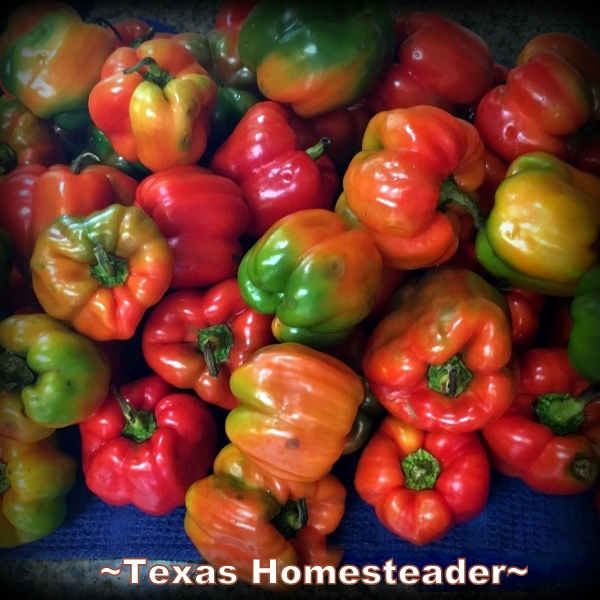 The poblanos are a surprise too. Since I didn't harvest many at all last year, I over-planted the poblanos this year. I was hoping to harvest enough to make plenty of RancherMan's favorite Lazy-Cook Chile Relleno Cups.
I think that's been a success! They've all thrived. I've been harvesting, roasting & seeding poblano peppers and tossing them into the freezer. I should have plenty to make my Chile Relleno dish over & over again. Yea!
Squash & Cucumber Vines Hit By Squash Bugs
I was relentless about inspecting my garden every day and removing those copper-colored eggs that indicate squash bugs are making a run to try to decimate my squashes.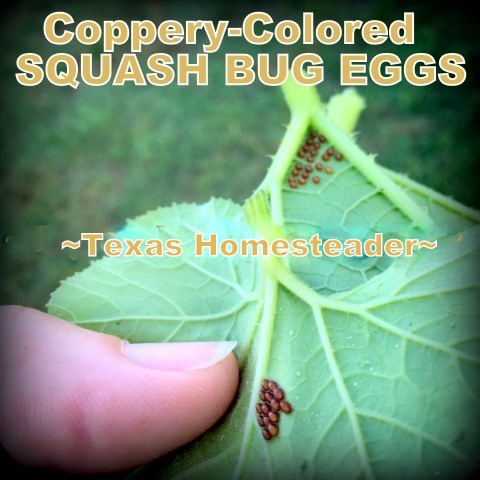 If I did see any actual squash bugs that thwarted my egg-removal efforts, I'd pick them off and let them Go For A Swim.
Still they persisted and completely wiped out all my cucurbits. Spaghetti squash, summer squash, zucchini, cucumbers – all succumbed to those nasty pests. I wonder if my biodegradable weed block actually aided them somehow? Hummm…
I'll attempt to plant more squash as part of my fall garden.
Onion Beds
My onions are Egyptian Walking Onions. The onions are small, but more powerfully-flavored than large slicing onions.
They send up a bloom like regular onions, but tiny bulbules form on the end of those bloom stems. The bulbules grow and weigh down the stems until they touch the ground.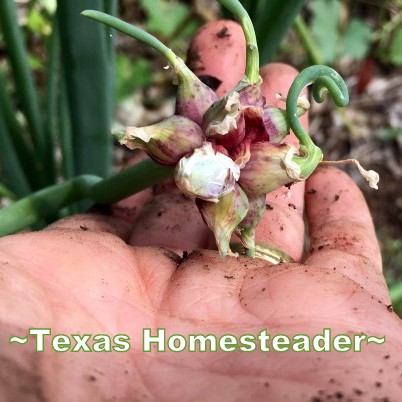 There the bulbules come into contact with soil and sprout roots to grow a new onion plant for next season. I've not planted onions in a couple of years now thanks to these onions planting themselves!
Right now my main trouble is trying to weed the onion beds. I've left the bed alone to allow the bulbules to root, but that means the spreading weeds are getting out of control. Sigh, always something, huh??
Weekly Blessing Basket
Finally, I'm carrying on my weekly blessing basket tradition.  RancherMan & I meet with a church study group one day each week. Many in the class are either older or don't garden anymore. So I've started something I'm calling a "Blessing Basket".  I've vowed to put everything I harvest on that day into my Blessing Basket and take it with me to class to share the love.  The reaction has been amazing!
The contents change every week depending upon what I'm harvesting.  There may be green beans, cucumbers, a large head of garlic, cantaloupe, some herbs such as rosemary, sage, basil and oregano.  And I even include the fresh eggs my girls laid that day. These days the basket is typically filled with herbs & peppers.  When I plant my fall garden I'll be able to continue offering green beans too.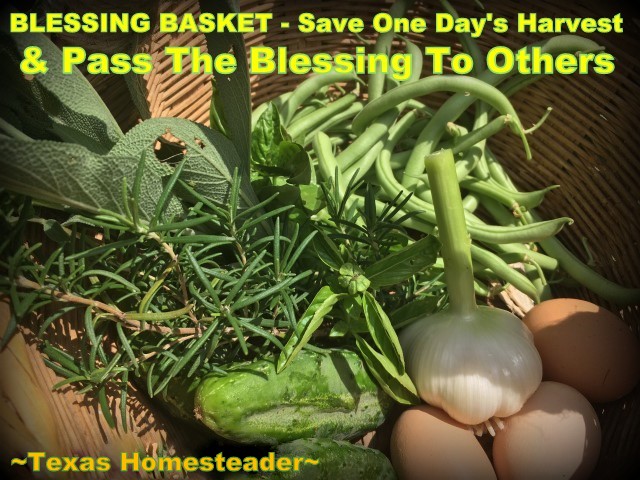 Blessing Basket Challenge
I challenge all of you gardeners to do the same. Whether you meet with a book club or garden club, or maybe just for a neighbor down the street.  Bundle your harvest one day each week and pass the blessing on!  And let's get others to do the same.  Share a photo of your weekly Blessing Basket on Instagram with the hashtag #BlessingBasket.
We'll see how far I'm able to squeak along my garden this month.  Even if it must go dormant, I'm thrilled with the bounty it's provided already.  And I'm looking forward to planting some things for fall and harvesting that into the cooler months as well. Growing Your Own Food Is Like Printing Your Own Money, #amiright??
How's your garden doing this month?
~TxH~
Links In This Post:
My Favorite Garden Hacks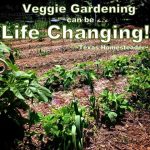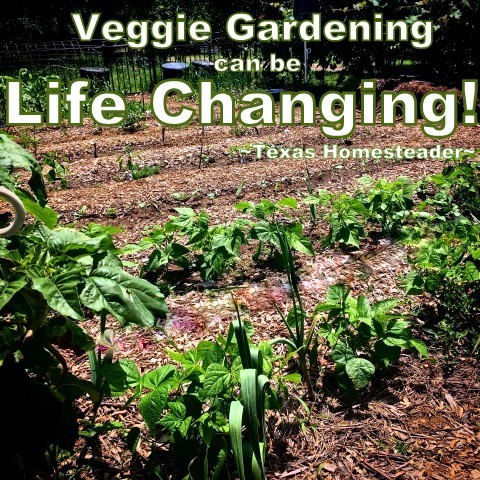 C'mon by & sit a spell!  Come hang out at our Facebook Page. It's like sitting in a front porch rocker with a glass of cold iced tea – lots of good folks sharing!  You can also follow along on

Pinterest

, Twitter or

Instagram

.
If you'd like to receive an email each time a new blog post goes live it's EASY to Subscribe to our blog!
Save