by Texas Homesteader ~
Whelp, we made it to July, y'all!  As is typical, it's feast or famine with the rain.  Although much rain has fallen in the area it always seemed to miss us.  But then?  Oh then my friends, the rain fell!  We got almost 3 glorious inches while we were away visiting relatives.  The garden responded with a hearty rebound.  Now I know here in NE Texas the rain taps will typically turn off about now and will stay off for the rest of the summer.  So we may get a little ole 1/4″ inch or so every now & then, but we can count on manually irrigating the garden from here on out.  But let's stroll through the garden and see how it's doing, shall we?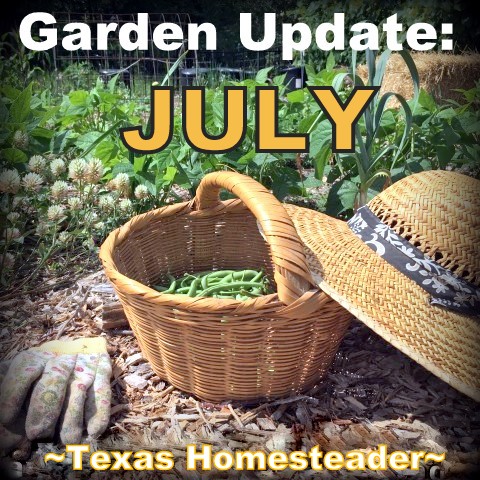 On a typical year for us in zone 8, July is where things begin to grind to a halt.  It's so hot & dry that even if you're able to keep everything watered it's hard to get plants to set fruit.  So I'm going to enjoy the harvests that are going on right now.
Concord Grapevine
The grapevine has grown like CRAZY.  Trips to visit relatives and super-busy days have kept me behind in pruning. The vines have decided to grow into the trees and throughout the garden gate.  LOL.
But although the grapes set lots of fruit, I'm noticing lots of drops. Even full bunches of grapes on the ground.  The culprit?  Raccoons.  They've decimated the corn and are working through my grapes.  Oh, and they've been caught visiting the chicken pen each & every night.  Thankfully the hens are locked in tight when the raccoons come-a-callin' but they've got to go.  RancherMan's set traps, we'll see how that goes.  Hopefully we'll still be able to harvest lots of grapes in the coming weeks.
Green Beans Doing Great
Our green beans have been a screaming success.  I planted 3 rows of green beans this past spring – a few weeks apart to prolong the harvest.  The first row was heirloom Contender bush beans and they've been amazing!  We eat fresh green beans almost every night and I've frozen gallons of them for later.
And the last plant of each row of green beans is reserved only to make seed.  I'm gonna need this seed too.  'Cause you're darn skippy this heirloom Contender will be planted every year!
The middle row has produced an abundance as well, but it's not an heirloom variety of Contender.  I had the seed so I used it here.  I've not been disappointed, however the volunteer cantaloupe vines have gone crazy on this row.  It's a challenge sometimes to get in there & harvest.  I guess that's a good problem to have though, right?
The final row of green beans I purchased at the Mother Earth News Fair this year.  They are supposed to be Pages Tendergreen Improved Bush Beans but as you can see, they were obviously mispackaged.  I had to set up a trellis for these vining beans and I've been pretty disappointed with both the yield as well as the tough beans.  I'll certainly not save these seeds!
Other Garden Areas
Let's look at the other parts of the garden, shall we?  There are a couple of small round watermelons beginning to ripen.  The seeds for these watermelons were gifted by a sweet friend when her father died unexpectedly.  She wanted to pass those garden seeds on to someone who would use them.  I was so honored to receive them!
The okra & bell peppers are producing ok I guess but I had to actually purchase all my pepper plants this year.  For some reason none of the pepper seeds would sprout!  And the okra? Well although RancherMan requested that I plant okra, I find we don't really do anything with it.  Fried okra is delicious but I don't think it's a good idea to eat that much fried food.  I thought I might pickle it because we love pickled okra, but see above statement about way too much to do in each day…  LOL
Tomatoes
What about tomatoes?  Whelp, I've struggled with my tomatoes this year as well.  None of the seeds germinated from my indoor greenhouse.  Thankfully I did have some volunteers spring up and get relocated to the garden.  This one sprouted beneath the compost tumbler so I have no idea what kind it is!  I dug up the tiny sproutling plant & moved it to the garden.  It's growing like a weed & has done very well.  I've not harvested any tomatoes from it yet but it looks like it won't be long!  The plant is covered with groups of tomatoes such as these.
There are a couple more volunteer tomatoes that aren't doing much.  I worry that the crazy height of my sunflowers at the edge of the garden are keeping the tomatoes too shaded.  Who knew these sunflowers would grow this tall??!!  (One of them is over 12-ft tall and still growing.)  Hopefully my tomatoes will go ahead & take off soon though.
But here's a weird one.  This volunteer was relocated to the tomato section and I was thrilled to see that it was a San Marzano heirloom tomato vine.  I love them and I'm for sure going to save some of these seeds for next year.   But this tomato vine is struggling and dying, I'm virtually certain I'll lose it.  But I wonder what's going on here?  Anyone have any tips?
Onions & Volunteer Plants
I've harvested lots of onions and I allowed the volunteer cantaloupe vines to create a living mulch to keep the soil softer for the onion harvest.  But DANG!  These vines are going crazy and the bees love them.  So my living mulch will provide lots of harvest.  Yep, I'll have no shortage of cantaloupe this year!
On the other side of the onion patch is this square where I planted my 3-Sisters Garden.  I used Kandy Korn & black-eyed pea seed from my sweet friend's father's veggie seeds and heirloom pumpkin too.  I've also planted peanuts here and allowed the same volunteer vines such as the ones across the aisle in the onion bed to flourish in this location as well.  They've really taken hold here too.  Wowser, there will be no cantaloupe drought in the Taylor Household.  I'll have plenty to share!
And the pumpkins are producing better this year than previous years.  There are several on the vines now, and one of them is already turning orange.  How exciting!
Potatoes Planted In A Trough
And I was pretty excited to harvest the red potatoes from the trough.  If you'll remember I planted store-bought sprouted potatoes in this trough earlier this year.  Back then I was searching for seed potatoes to plant and these were destined for the compost pile anyway.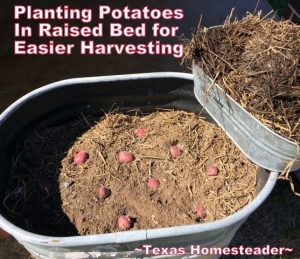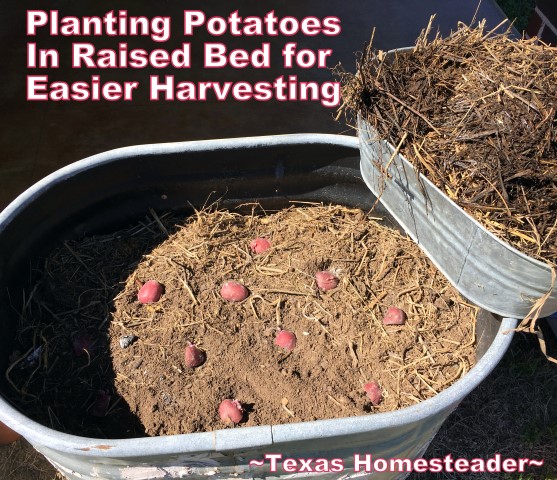 Harvesting the potatoes was so easy!  I simply pulled away the straw and picked up the potatoes.  There wasn't a huge harvest but like I said, these planted potatoes were destined for the compost pile anyway. I count this one as free food!
The cucumber vine in the garden is volunteer but I allowed it to stay since it's growing along the fence & shading the chicken coop from the hot west sun.  But I also figured I'd leave it for a few cucumbers to harvest.  You know, in case I wanted a few cukes fresh and perhaps make a jar or two of pickles.  But our cucumbers did so well last year we haven't gone through all those pickles yet!  So I'm sharing lots of cucumbers in my once-a-week Blessing Basket (see below).  The rest I've allowed to grow into mammoth cucumbers.  The chickens love them and I love that I'm growing some of my own chicken food that way.
Sunflowers!
And these sunflowers!  Oh my!  I planted a row of them at the end of my garden right next to the chicken pen.  My thought was to enjoy the beauty while giving the chickens that much-needed summertime shade.  But they went CRAZY!  I planted these from harvested Mammoth sunflower seeds last year.  I knew they wouldn't come back true since they weren't heirloom.  But I've been thrilled with the results.  Some have the huge Mammoth seed-bearing head.   I've harvested those seeds and saved some for next year.  The rest were given to my sister for her daughter's wedding – they will be part of the wedding favors.
Some of the sunflowers have slightly smaller but still seed-bearing heads.  But these…  These sunflowers are currently about 12-feet tall and are peppered with regular-sized bright yellow blooms.  The honeybees, bumblebees and butterflies are delirious with excitement over them.  I can't help but to smile each day as I pass by them.  Beautiful!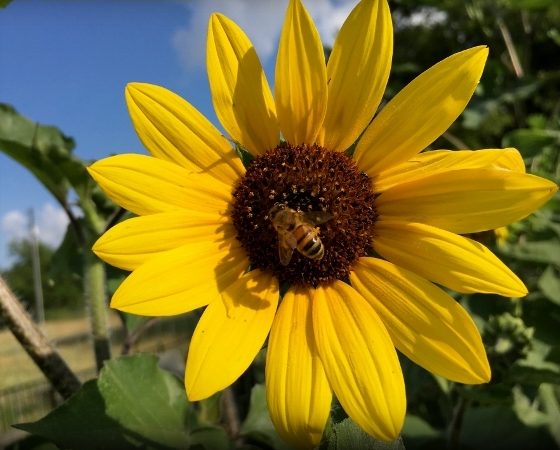 Weekly Blessing Basket
Finally, I'm carrying on my weekly blessing basket tradition.  RancherMan & I meet with a church study group one day each week. Many in the class are older or don't garden anymore. So I've started something I'm calling a "Blessing Basket".  I've vowed to put everything I harvest on that day into my Blessing Basket and take it with me to class to share the love.  The reaction has been amazing!
The contents change every week depending upon what I'm harvesting.  There may be green beans, cucumbers, a large head of garlic, some herbs such as rosemary, sage, basil and oregano or cantaloupe.  And I even include  the three fresh eggs my girls laid that day. Hopefully soon there will also be tomatoes & peppers.  Or even pumpkin or watermelon!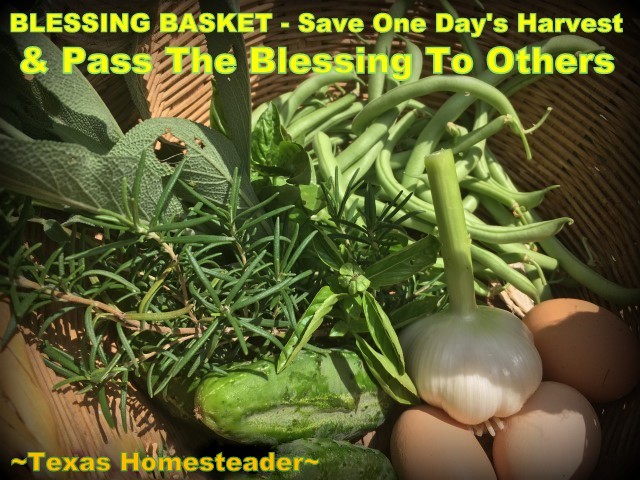 I challenge all of you gardeners to do the same. Whether you meet with a book club or garden club, or maybe just for a neighbor down the street.  Bundle your harvest one day each week and pass the blessing on!  And let's get others to do the same.  Share a photo of your weekly Blessing Basket on Instagram with the hashtag #BlessingBasket.
So there's a (not-so) quick tour of our NE Texas garden.  What's growing in your garden these days?
~TxH~

C'mon by & sit a spell!  Come hang out at our Facebook Page. It's like sitting in a front porch rocker with a glass of cold iced tea – lots of good folks sharing!  You can also follow along on Pinterest, Twitter or Instagram.
If you'd like to receive an email each time a new blog post goes live it's EASY to Subscribe to our blog!
Save
Save
Save