by Tammy Taylor
RancherMan & I have several free-range hens and they provide us with an ample supply of fresh healthy eggs.  I like to boil up a whole pot of them at a time and keep 'em in the fridge for a high-protein snack for him to grab-n-eat when he's hungry.  But he really likes the convenience of having them already peeled when he reaches for them.
Hey, I'm a happy girl that he's eating something provided right here from our homestead instead of reaching for sugary or salty snacks, so I'm very willing to make it as convenient as possible for him.  Luckily there's an easy way for me to keep peeled hard boiled eggs in the fridge at all times.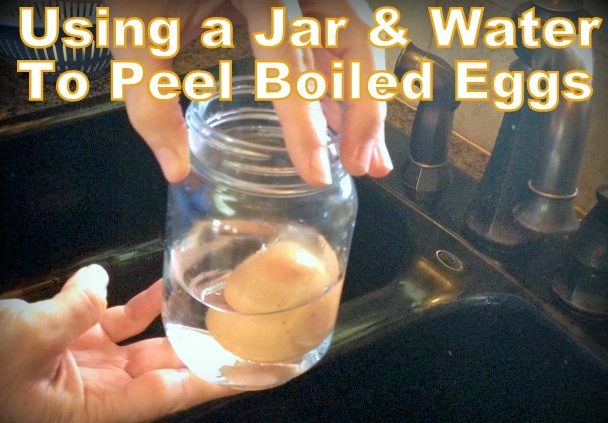 I first boil the eggs for about 12 minutes.  Then I strain out the water and allow the cooked eggs to cool completely in a colander, oftentimes storing the colander in the fridge overnight.
Easily Peeling Boiled Eggs
But when I'm ready to peel a bunch of eggs for my handsome RancherMan I can pull out the cooled eggs and drop one into an empty glass jar. I add water to just below the height of the egg in the jar, then place my hand over the mouth of the jar and shake as vigorously as I can for about 5 seconds.
The egg then peels super-easily, sometimes the shell is even floating around in the water by itself leaving my egg completely peeled without me touching it again!
Wanna see this coolage in action?  Well thanks to the talented editing of my wonderful son-in-law (thank you Lance!) I even have a video to share with ya.  Check it out…
Hey, anything that makes my time spent in the kitchen quicker is a winner in my book, no?? I will say it helps if your eggs are hard boiled and not soft boiled. You want a good, firm white to take this kind of abuse!  It also helps if you've popped the cooked eggs in the fridge for awhile after you boil them to get them good and cold.
But this always works beautifully for me. Give it a try and let me know what you think!
~TxH~

C'mon by & sit a spell!  Come hang out at our Facebook Page. It's like sitting in a front porch rocker with a glass of cold iced tea – lots of good folks sharing!  You can also follow along on Pinterest, Twitter or Instagram.
If you'd like to receive an email each time a new blog post goes live it's EASY to Subscribe to our blog!
Save
Save