by Tammy Taylor~
RancherMan & I enjoy a fun tradition with a small group of our friends.  Every month we all gather to celebrate whomever is having a birthday that month.  The honoree gets to choose their preferred restaurant location and we all meet to offer birthday cheer to them.  We always sing "Happy Birthday" to them, family style.  (That means purposely horribly off-tune and out of sync with each other)  LOL!  Way too much fun!  Although gifts/cards are not expected,  cards are often brought & sometimes small gifts are brought as well.  But a cute, thoughtful gift doesn't have to break the bank.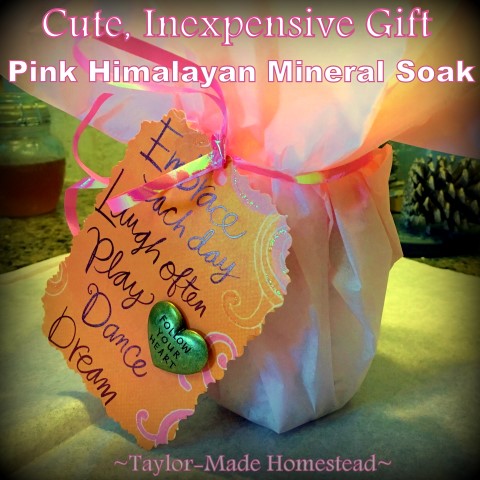 Although I realize I could just whip up some bath salts from scratch I love the look of the pink Himalayan mineral soak.  So I got a large bag of fru-fru bath salts, this one was Dr. Teal's Pink Himalayan Mineral Soak.  The larger bag didn't cost much at all & the bath salts are scented with Bergamot & Sweet Orange Essential Oils.  Aaaaahhhhh…
But mama always said, "Presentation is Half The Gift" and plunking over a large bag of bath salts has no presentation at all.  But lucky for me that one bag will make several cute gifts!  Here's what I do.
I simply poured the bath salts into 1/2-pint canning jars and added a 2-part canning lid. I printed out "Pink Himalayan Mineral Soak" on a piece of cardboard & cut it to fit inside the ring on the lid.  Then I printed out the specifics and taped it to the front of the jar using a wide piece of heavy shipping tape.
Finally I took a birthday card I'd received in the past and repurposed it for this gift. Nothing's wasted!  I took scissors and cut a decorative edge around the cute saying on the card.  Then on the back I wrote the To/From information with the honoree's name.  A quick hole punch and ribbon threaded through to tie everything together and BOOM!  Now that's a simple gift with plenty of presentation punch!  Mama would be proud…
And it's proof once again that you don't have to spend a lot to give a thoughtful gift.
~TMH~
C'mon by & sit a spell!  Come hang out at our ~TMH~ Facebook Page.  It's like sitting in a front porch rocker with a glass of cold iced tea with lots of good folks sharing!  You can also follow along on Pinterest, Twitter or GooglePlus. To receive an email each time a new blog post goes live it's EASY to Subscribe to our blog!
Save