by Texas Homesteader ~
Whelp, it's August y'all.  In TEXAS!  August typically means hot and dry weather.  Late July and early August are usually when I quit fighting the garden altogether and let it go dormant.  I mean, when it's this hot nothing wants to set fruit anyway.  And during our typical summer when the taps of rain turn completely off in June, it's impossible to keep the garden watered too.  Oh you can mulch and you can water and of course it helps.  But the water you drop on the garden will probably be wicked away quickly without really soaking into the ground next to the plant's roots.
But this year our July was different.  Oh it was stiflingly hot and humid, but we got rain.  NINE different days of rain!  And not just a paltry 1/8″ but good, healthy 1-inch rains!  So although the garden is still bound to go dormant this month I've been lucky to have some harvest remaining.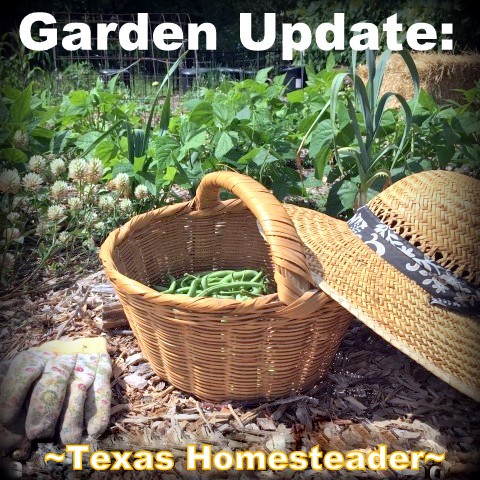 Green Beans are Gone
The rows of green beans have finally petered out.  They provided an awesome abundance this year!  I harvested fresh green beans for our suppers most nights.  And I had enough to harvest every week to share in my #BlessingBasket.  (see below for explanation).  Plus I still had enough left over to freeze several gallons.
But now that August is here and the plants are gone I've cleared the row and mulched over it to keep anything undesirable from sprouting here.  About mid-month I'll sow more heirloom green bean seeds so I can have a fall harvest as well.
Cantaloupe Craziness
Cantaloupes are going crazy!  I've harvested and eaten more fresh cantaloupe than I could count.  I've also had several to take with me each week in my #BlessingBasket to share.  And yet there is still more.  So I've sent cantaloupe home with visitors who have been thrilled with the gift, yet there is still more ripening every day!
I'm planning on pureeing some of the cantaloupe and making cantaloupe bread.  It's a surprisingly delicious sweet bread similar to zucchini bread.  The bread can then be frozen to be able to pull at a moment's notice when unexpected company comes or at the next covered-dish affair we attend. I typically top this bread with a pecan praline glaze! It's amazingly delicious and puts good use to these home-grown cantaloupes.
Tomatoes & Peppers Were A Bust
My tomatoes and peppers have been a disappointment this year.  I'm not sure what happened to them but the tomatoes died off with not much fruit at all.  Perhaps the many days of clouds (yet no rain) in June, and the many days of clouds WITH rain in July?  Perhaps there just wasn't enough sunshine for them.
The pepper plants that did survive are long & spindly, a common side effect of not enough sun.  So that's what I'm assuming happened here.  Perhaps the mammoth sunflower plants I planted along the east fence grew so tall that they kept this area of the garden way too shaded? I'll use these lessons learned to help avoid this loss next year.  I'll still plant a row of sunflowers for the beauty, the bees and shade for the chickens.  But perhaps I need to move them just a little further away from the garden fence.
Cucumber Vine About Spent
The cucumber vine is dying off.  They typically prefer cooler weather so no surprise there.  I'm not sure if I can squeak the vine through until cooler months or not for a fall harvest.  I'm going to use my jar irrigation system to try to keep the soil moist around it.  I have nothing to lose.
This heirloom pickling cucumber vine was a volunteer anyway.  Other than eating a few cucumbers raw and sharing them in my #BlessingBasket, the chickens have been the main benefactor of them.  They love the juicy seed portion of the oversized cucumbers.  I feel good knowing I'm growing some of their food.  And with all the water these huge cucumbers contain, it's also helpful to keep the chickens hydrated when it's hot & dry.
Concord Grape Thief
My grapevine is still growing like crazy, but sneaky critters took every stinkin' purple grape off the vine!  So although it provided an incredible record-breaking bounty this year, we got nary a grape.  Next year I may run interference by harvesting the grapes before they attract unwanted attention from those darn raccoons!
Heirloom Pumpkin Harvest
PUMPKINS everywhere!  I planted a couple of heirloom pumpkin vines and they've provided quite nicely!  I've harvested several already and shared several too. They're a nice country decoration in our home right now, but they'll be cooked & pureed in the near future. I still have about 5-6 out there to be harvested
I'll use my solar oven to cook them using just the power of the sun.  (have I mentioned lately how much I love my solar oven??)  When they're cooked I'll puree them for use in my favorite pumpkin granola.  I'm thinking I may make pumpkin granola for our homemade Christmas gifts too.  I mean, how much more homemade is it when you kept back the seed from the previous year, planted it and grew the pumpkin first!?
Peanut and Onion Beds
The pumpkin and cucumber vines are still covering my peanut plants.  This is only my 2nd year to grow them and I saved the peanuts from last year's harvest to plant this year so I'm really not sure what I'll end up with.  I'm virtually positive the peanuts I originally planted weren't heirlooms.  But I'll harvest them this fall, save back the peanuts from the largest pods and do it again next year!
On the other side of the aisle is my onion bed, also mulched with cantaloupe vines.  The vines shade the soil around the onions and also provide something to eat – juicy cantaloupes!  That's why I've ended up with so many cantaloupe this year.  I never planted them, they are all volunteer vines.  What a win/win situation!  I'm still harvesting onions when I need them for cooking, but soon I'll need to pull them and cure them for storage.
Weekly Blessing Basket
Finally, I'm carrying on my weekly blessing basket tradition.  RancherMan & I meet with a church study group one day each week. Many in the class are either older or don't garden anymore. So I've started something I'm calling a "Blessing Basket".  I've vowed to put everything I harvest on that day into my Blessing Basket and take it with me to class to share the love.  The reaction has been amazing!
The contents change every week depending upon what I'm harvesting.  There may be green beans, cucumbers, a large head of garlic, cantaloupe, some herbs such as rosemary, sage, basil and oregano.  And I even include the fresh eggs my girls laid that day. These days the basket is typically filled with herbs, cantaloupe & pumpkin.  When I plant my fall garden I'll be able to continue offering green beans too.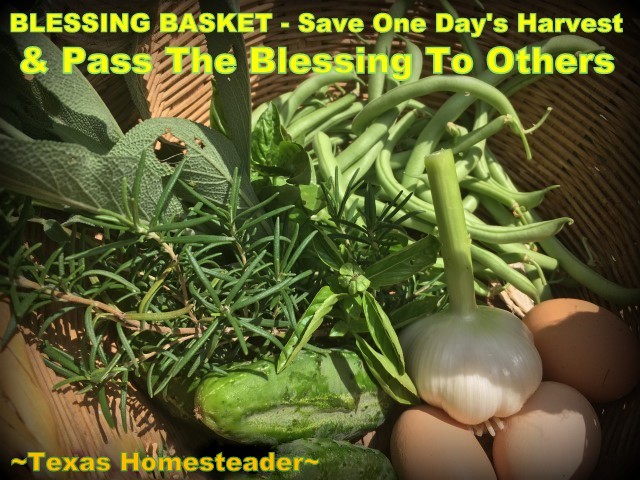 Blessing Basket Challenge
I challenge all of you gardeners to do the same. Whether you meet with a book club or garden club, or maybe just for a neighbor down the street.  Bundle your harvest one day each week and pass the blessing on!  And let's get others to do the same.  Share a photo of your weekly Blessing Basket on Instagram with the hashtag #BlessingBasket.
It's still early in the month so we'll see how far I'm able to squeak along my garden this month.  Even if it must go dormant, I'm thrilled with the incredible bounty it's provided already.  And I'm looking forward to planting some things for fall and harvesting that into the cooler months as well.  How's your garden doing this month?
~TxH~

Save