by Tammy Taylor~
Y'all know I have to have my hands in the dirt.  Wanna know a secret? I don't really enjoy gardening (I know, REALLY??! gasp!)  But it's true. I don't enjoy the planting, weeding, watering, maintenance, etc.  But I really love the harvesting and that makes it all worth the toil.
Harvesting fresh veggies from my own garden minutes before supper is healthier than veggies traveling all those miles to get to my supper table. Plus food this fresh just tastes better!  And I've often said that planting a garden is like growing your own money.  Pounds & pounds of fresh, organic produce for just the price of a small packet of heirloom seeds?  Yes please!
Wanna see how my garden is doing?  C'mon in, I'll share my April garden update!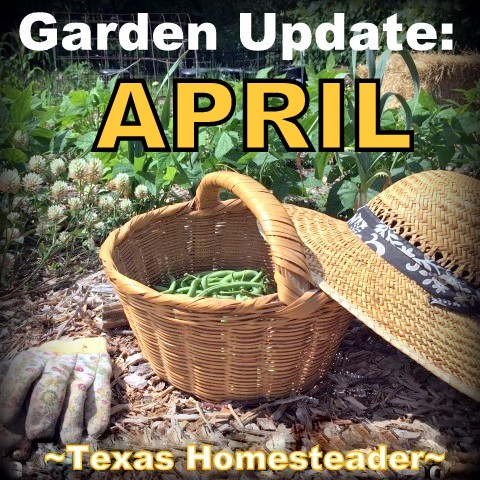 In January I always start my 'Indoor Greenhouse' and start lovingly planting my seeds in repurposed Cardboard Tubes. Day by day those seeds grow into seedlings until finally I can begin hardening them off & planting them in my garden.  Here in NE Texas (Zone 8) that's around Easter.  And of course it was done with much anticipation of good things to come…
Then a couple of days later, THIS happened.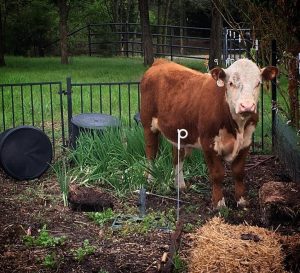 A yearling bull trying to rejoin the group of calves he'd been separated from thought it might get him a little closer if he hopped my garden fence while we were gone.  In a short hour's absence he did some mighty powerful damage!  But I guess 800 lbs of bovine chunkiness can do that.
The onions had been trampled to the ground and so had the garlic.  And the corn, tomato, bell pepper, anaheim and poblano seedlings were now nowhere to be found either, stomped firmly underground.  Grrrrrr!!!
Overcoming Garden Adversity
So I almost had to start from scratch. All the deep bovine footprints in the soil were smoothed out, mulched pathways raked smooth again and planting rows prepared (again). The ripped up garlic and onions were straightened and replanted.
Then I replanted all the corn and 3 rows of heirloom green beans.  Heirloom cantaloupe, okra and pickling cucumbers were planted too.  When the corn sprouts I'll plant vining beans and either pumpkin or vining squash to complete my 3-Sister's Garden section.
I look forward to seeing all those seedlings emerge when I can once again dream of the bountiful harvest the garden will provide.
I'll probably hold off planting my zucchini & yellow squash until May. I was told at a gardening seminar that planting them later is one way to attempt to thwart squash bugs, so we'll see if that helps.
Not All Is Lost
On a bright note, my grapevine is bursting forth and I'm hoping to get a great grape harvest this year.  Last year the raccoons got each & every ripe grape and we got nary a one.  Naughty critters!
And many of my herbs had been planted in my edible landscape.  Just because a plant is edible doesn't mean it can't be beautiful!  Lots of those herbs are coming back this year. My sage is growing like gangbusters and blooming beautifully.  I've got oregano coming back and thyme too.  My stevia is even coming back strong.
The blackberries I planted along the fence are blooming and so has the apple tree & wild plums.  These blooms are hints of a delicious harvest in a few weeks.
But it looks like I'll still get no pears from the Ayers pear tree I planted 3 years ago since I never saw a bloom on it this spring.  Bummer, maybe next year?
So there's a quick stroll through my garden.  It's early yet and I've had setbacks for sure, but it still promises to provide lots of delicious nutrition for us this year.
What's growing in your garden?
~TxH~

C'mon by & sit a spell!  Come hang out at our Facebook Page. It's like sitting in a front porch rocker with a glass of cold iced tea – lots of good folks sharing!  You can also follow along on Pinterest, Twitter or Instagram.
If you'd like to receive an email each time a new blog post goes live it's EASY to Subscribe to our blog!